Proxima
Proxima IP PBX Server was designed in response to the growing needs of small and medium-sized companies, ranging in size from several to a few dozen of people working both locally or remotely in one or more locations. Along with Libra PBX Server and Proxima plus IP PBX Server, it creates a new range of telecommunications servers based on proven and at the same time innovative hardware and software Platan solutions.
Intelligent Call Distribution with call queuing, call recording and advanced voice menu scenarios enable professional handling of phone calls even in a small company.
An innovative See Who's Talking solution will enrich daily telephone contacts thanks to the video transmission. A compact, universal casing allows any installation – on a wall or in an ICT cabinet.
Proxima - Key features
Embedded VoIP – IP Gateway (IP GW), IP Extensions (IP EXT).
Call queuing and Intelligent Call Distribution with professionally recorded system messages and euphonious melodies.
Embedded multi-channel call recording.
Networking of Platan Libra, Proxima plus and Proxima servers (NEW!).
Multi Phone – possibility of connecting up to four phones (including the mobile phones) on one extension number.
Smart Callback (NEW!)
Innovative See Who's Talking solution – video calling available to any number of users, Platan Video Softphone.
See Who Wants to Come in – support of IP video door phones and Platan Video Viewer free app.
Teleconferences, conference rooms.
Boss-secretary scenario (limited access to privileged users).
Full freedom of services and extensions numbering.
Local and remote web-based management.
Runs on Windows, Linux and Mac OS X thanks to an application based on the Java environment.
Integrated internal voicemail for all users.
Voicemail Plus – 8 group voicemail inboxes allowing to leave voice messages for a group of users (NEW!).
PZK® Cost Management Programme.
User Zone accessible via a web browser.
Remote access for installers via MyServer platform.
Integrated multiple GSM cards – cheap calls to mobile networks.
Controlling external devices – automatically or using any phone.
Support of call center Naso CC, CRM, taxi, hotel software and other via PCTI protocol and Platan TAPI.
Compact, universal casing which can be hung on a wall or mounted in a 19" RACK cabinet (only 1U of height!).
Call center in Proxima server
call schemes - multi-level voice menu system distributing the incoming calls with IVR (Interactive Voice Response); practically unlimited number of freely defined call schemes;
possibility of leaving voice messages also for a group of users, e.g. the commercial office workers, in Voicemail Plus; the messages can be accessed by all group members and/or managed by a Supervisor in Platan CTI app. – NEW!
queuing callers waiting for a connection – with information about the position in the queue and the expected waiting time;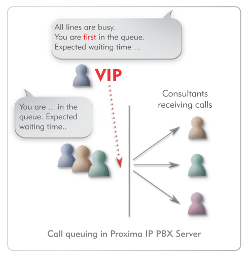 Call queuing in Proxima IP PBX Server
professionally recorded system messages and euphonious melodies;
up to 25 callers listening to one voice announcement;
Intelligent Call Distribution:

Uniform Call Distribution (UCD),
distribution to the group according to the selected topic,
distribution on the basis of the calling line identification presentation CLIP - Automatic Call Distribution (ACD),
call forwarding to other extension, mobile phone or voicemail system when the user is busy, logged out or fails to answer,
Black Lists of intrusive calls,
numbers with VIP status - defining the queue priority numbers etc.,
time for notes - time for call answerers within Hunt Groups to make a note after each call, enter data to the databe etc., no concecutive calls will be directed to this answerer for the defined period.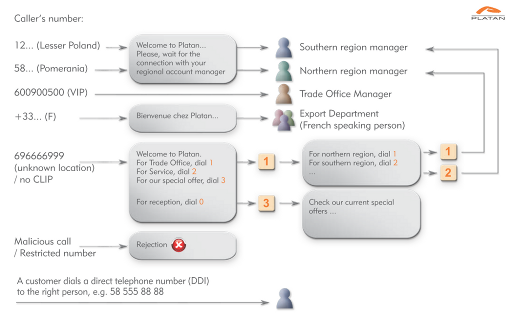 Automatic Call Distribution (ACD) and Interactive Voice Response (IVR)
within the Proxima IP PBX Server
embedded recording of up to 16 simultaneous calls with Agent 003 app;
possibility of enabling call recording at any IVR level;
precise choice of users, lines and type of calls (incoming, outgoing, internal) to be recorded - NEW!
"never record" option for selected users (e.g. directors) - NEW!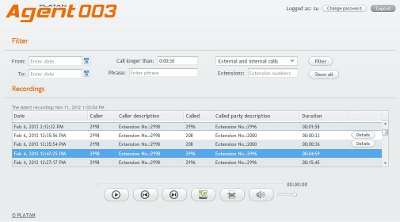 Browsing and playing the recorded calls in Agent 003
global phonebook with up to 3000 entries
128 individual phonebooks
See Who's Talking - Calling Line Identification Presentation (CLIP) on all phones displays and in Platan CTI software
support of dedicated Naso CC software - with system of advanced statistics and extended call centres features
support of Taxi123 software for taxi corporations
PZK® Cost Management Programme
Penny application - individual and group billing
Calls statistics in tables and graphs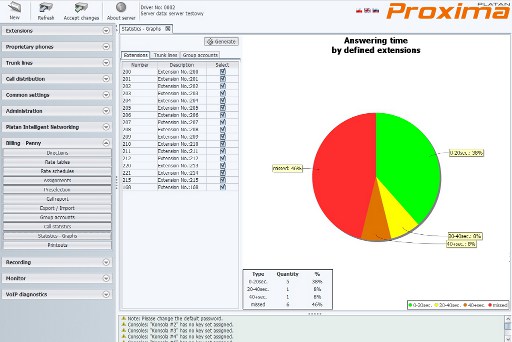 Graphic presentation of calls in Proxima Penny module
Integrated GSM cards - cheap calls from analogue phones to mobile phones
I/O card - control of external devices (up to 8 inputs/8 outputs)
Up to 2000 individual accounts
Up 1000 DDI (Direct Dialling In) numbers
Call buffer up to 100,000 records
Restrictions on outgoing calls to limit the unwanted calls
Up to 2000 virtual extensions
ARS/LCR - Least Cost Routing with more than two thousand national and international prefixes freely devided between four LCR tables
VEK® VoIP Cost Eliminator:
Access to cheap Internet telephony without additional VoIP gateways or cards
Multichannel VoIP lines (SIP trunk) suppport
Easy server expansion up to 200 IP phones
T.38 fax relay standard for fax transmission over IP networks
Unique Call Through function - call from a mobile phone via VoIP. Proxima recognizes the given mobile phone numbers and directs them to VoIP network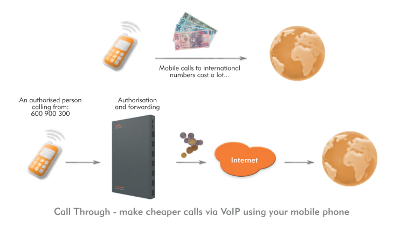 Call Through in Proxima IP PBX Server
- make cheaper calls via VoIP using your mobile phone
Keep everything under control
User Zone - your settings online, accessible via a web browser:

Hunt Groups log in/out status
Active call forwarding to extensions and other external numbers (unconditional - CFU, if no answer within a defined time - CFNA, when busy - CFB, or when not reachable/registered - CFNR),
Voicemail status (active/inactive, number of new and all messages, message limit)
Information about the cost limits on outgoing calls
View of global phonebook for proprietary and IP phones users
Quick and handy help with current set of server function codes.
Security and installer's remote care
ProximaWeb – web app. for local and remote management.
Remote access to Libra server via myserver.platan.eu platform.
Operation in Windows, Linux, Mac OS X systems thanks to the Java-based app.
Independent power backup systems.
Unique crossover connections panels arranging the server's cabling.
Embedded, quick Ethernet interface (LAN) 10/100 Base-T.
Enhanced security thanks to different access levels and complex passwords.
Local or remote management via ethernet network.

Remote access via ISDN modem, embedded analogue modem and offline software.
Universal RACK 19" casing (1 unit - 4U) for ICT cabinets or for wall mounting.
IP networks integration
Embedded VoIP

up to 1 VoIP64 card
support of up to 74 VoIP channels and up to 200 IP phones

VoIP protocol: SIP 2.0
codecs: G.711 uLaw, G.711 aLaw, G.726, G.729a, GSM
logging in to 64 VoIP accounts /operators with up to 32 simultaneous calls
higher quality of fax transmission thanks to the T.38 standard, recommended for IP networks
Networking with the use of IP network and VoIP cards:

up to 16 servers (Proxima, Proxima plus and Libra in any configuration) - NEW!,
up to 16 thousand users in a uniform system with a coherent numbering plan (NEW!),
up to 63 VoIP channels (NEW!),
easy dialling of extension numbers within a system and free internal communication,
standard server functionality - call forwarding, call transfer, Hunt Groups, CLIP etc.,
facilitated, intuitive configuration with a handy, interactive help (NEW!),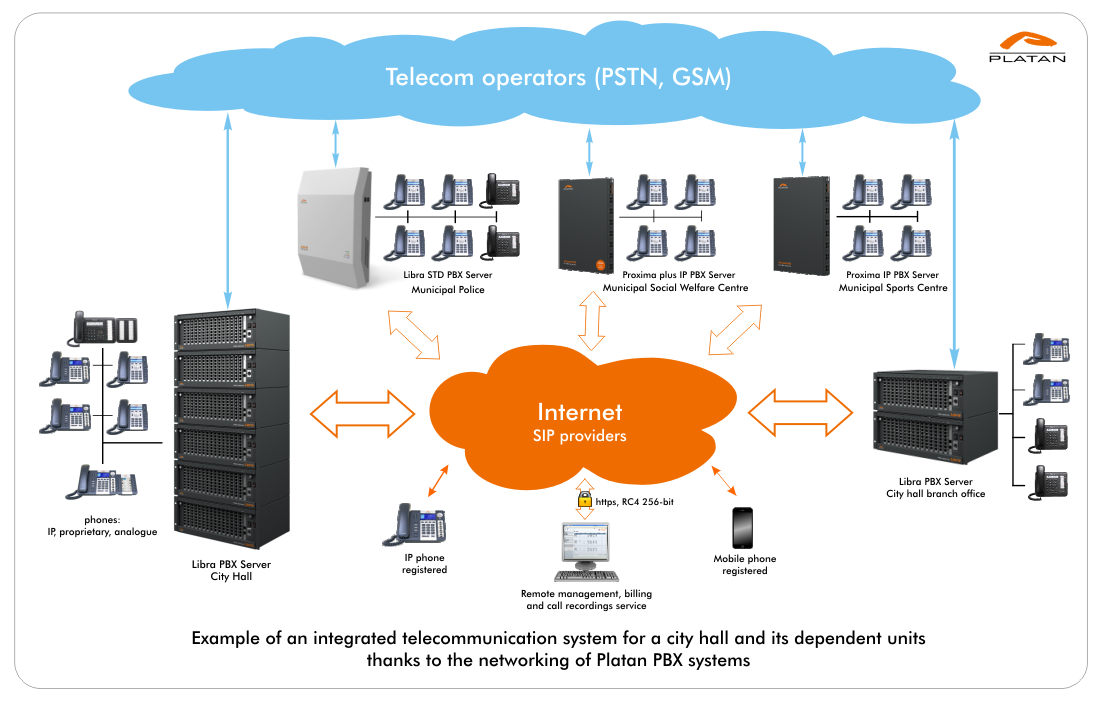 Example of an integrated telecom system - network of Platan PBX systems
Integration with other accessories and applications
Support of different types of phones, including IP phones, IP DECT phones, smartphones (thanks to the Multi Phone function and external port), and door phones.
Innovative solution See Who's Talking – video calls for any number of users, support of IP videophones and free Platan Video Sofpthone app.
See Who Wants to Come in – support of IP video door phones and the free Platan Video Viewer app.
Support of call center Naso CC, CRM, taxi, hotel software and other via PCTI protocol and Platan TAPI.
Hotel interface to support the hotel software, FIAS (Fidelio Interface Application Specification) to support the Micros Fidelio.
Possibility of using external call recorders.
Sending to smartphones alarm signals from e.g. smoke detectors or other sensors.
Control of external devices (lighting, entrance gates) – timed or with the use of phone.
Possibility to send voice announcement by phone to the broadcasting system (audio signal output).
See more on:
Proxima configuration
Proxima IP PBX Server is a compact device in 1U RACK casing for ICT cabinets. With the use of the dedicated holder the same universal casing can be hung on the wall. You have 7 universal slots at disposal, which permit you to use:
up to 14 analogue trunk (CO) lines
up to 16 trunk ISDN BRA (2B+D)
1 ISDN PRA (30B+D)
up to 28 analogue extensions
up to 28 digital proprietary ports (instead of analogue extensions)
1 VoIP 64 card - it supports with integrated VoIP up to 74 VoIP channels, up to 200 VoIP ports
up to 4 SIM cards (GSM ports)
up to 16 recording channels.
Proxima IP PBX Server dimensions
Universal casing - wall mountable or for ICT cabinets (19-inches)
height
width
depth
weight
44 mm
(1U)
483 mm
(19")
287 mm
about 5 kg
Related products
Platan CTI

Naso CC for call centers
Software for taxi corporations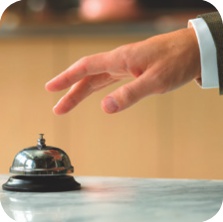 Hotel software

Call recorders

Compare systems

print