Security
The security issues have growing impact on strategic decisions made in enterprises and institutions. Security of an ITC system is among the crucial decisions to make.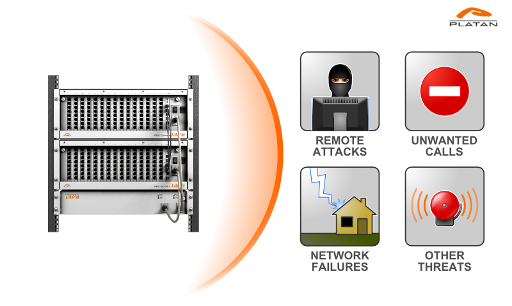 Security of Libra PBX Serer / Proxima IP PBX - protection against
remote attacks, malicious and unwanted calls, network failures and other threats
If you want:
reduce the costs of maintenance and management of the ICT system while keeping the high level of security
minimise the risk of remote attacks into the ICT system and making the unauthorised calls
profit from cheap IP calls at the best possible quality
eliminate calls to undesirable numbers or directions (e.g. long distance or premium calls)
block malicious calls
supervise ongoing calls with possibility of their recording for training or evidence purposes
receive alarm signals from sensors (fire and intrusion alarm, temperature in a cold store etc.)
ensure the system operational continuity in the case of mains power failure
protect your data
Libra PBX Server and Proxima IP PBX Server are perfect solutions to meet these expectations.
You receive:
protection against remote attacks from the network,
remote supervision, changes in configuration and billing with two-level data encryption system,
possibility of immediate reaction by persons responsible for telecommunication infrastructure on the appearing of a threat (e.g. signals from alarm sensors, network failures),
better quality of VoIP connections thanks to advanced VoIP diagnostics - a tool that makes it possible to monitor network parameters and SIP signalisation,
call recording system, the remote playing and downloading of selected encrypted calls by authorised users,
maintaining server operation in the case of mains power failure thanks to the power backup system, independent for every server unit.
We respect your privacy - remote access to the PBX system via the mojacentrala.pl platform by an authorised installer or Platan service is possible with your consent only.
Futhermore you do not make all data - concerning the user and their computer - available, as it takes place in some competitive solutions, only the data really indispensable for a diagnosis.

print