Prima nano
Prima nano is an advanced IP PBX system with minimal basic configuration at attractive price, modular construction and full freedom of choosing the equipments to suit the best the user's real needs.
Prima nano makes it possible to talk at a low cost thanks to the VoIP technology, it can be used as a VoIP gateway and it supports Platan SIP trunk. Cheap or free calls to the mobile networks as well as sending and receiving text messages are also available. Prima nano's functionality is enhanced by the embedded call recording and voicemail, while the PBX management is intuitive and simple via the web browser. Prima nano supports also the IP video door phones, IP videophones and video calls.
It is a perfect solution for the SOHO (Small Office Home Office) market, microbusinesses, small branches, shops, service outlets, single or multi-family houses, counting up to 20 users/phones. Prima nano is characterised by easy configuration and operation – Plug&Talk – ready to be used right after you unpack it.
Key features
Plug & Talk - PBX ready to be used right after you unpack it with predefined producer's settings
5 in 1 - choose whatever you need - minimal basic configuration and modular construction gives you the free choice of equipments and extensions
Mini infoline – initial and additional announcements to be played, e.g. with information about the call recording or privacy policy.
Multi-channel call recording.
Mobile phone in a PBX - cheap and free calls to mobile networks from traditional phones
VoiceMail for all users
See Who's Calling - Calling Line Identification Presentation (CLIP)
Local and remote management and upgrade via webbrowser
VEK - Cost IP Eliminator:

access to cheaper Internet telephony without any additional gateways
unique Call Through function - call from a mobile phone via VoIP. Prima recognizes the given mobile phone numbers and directs them to VoIP network
possibility of using IP phones
SIP trunk (multi-channel VoIP lines) support

PZK - Cost Management Programme


Penny module - individual accounting of phone call costs
Restriction system – limiting the number of unwanted outgoing calls
LCR - Least Cost Routing (automatic selection of the cheapest call route)

Compatibility with Platan CTI software (additional phone's functions on computer's display)
Wall mountable case
3 language versions: Polish, English, Russian
And to that... all characteristics of a modern IP PBX phone system.
Platan Prima nano is a unique European solution of this size offering integrated call recording, voicemail, call billing and serving all types of telecom lines: IP, fixed, GSM and ISDN.
Configuration
Prima nano IP PBX basic configuration
4 analogue extensions (FXS)
2 universal slots for additional equipments
The basic configuration can be expanded by adding cards according to the table (one selected card per slot).
Slots may remain empty. Licences for VoIP channels and ports are independent from the hardware configuration.
basic configuration


slot 1

slot 2

+

1 trunk line


2 extensions

4 extensions


1 ISDN (2B+D)

1 GSM card


+

1 trunk line


2 extensions

4 extensions


1 ISDN (2B+D)

1 GSM card
+ up to 8 licences for VoIP channels for external and internal calls
+ up to 8 licences for VoIP ports (up to 8 IP phones)
+ up to 8 licences for VoIP transmission on VoIP ports
+ licences for recording calls on up to 10 channels simultaneously
Test IP PBX Prima
You can see and test IP PBX Prima interface on prima.platan.pl website (password 12345678).
Prima nano - dimensions
Standard case (wall mountable)
| height | width | depth | weight |
| --- | --- | --- | --- |
| 295 mm | 200 mm | 47 mm | 1,6 kg |
Download
Prima/Prima mini IP PBX catalogue - VoIP became simpler [open]
Related products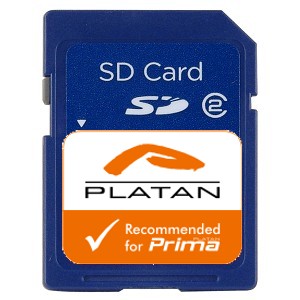 SD card
Platan CTI

Naso CC

Taxi software

Hotel software

Compare systems

print