Platan Call Monitor
Platan Call Monitor – application helps to manage calls answered by groups of users (Hunt Groups). Take care of your customers. Do not lose any prospect!
Who will find Platan Call Monitor useful?
If you:
deal mainly with incoming telephone traffic,
have the calls answered by several people (or groups),
sometimes have more calls than people aswering them,
care about the best customer service,
agree that every customer is a potential sale, and that a customer who doesn't reach you, may do not come back to you,
want to know if anyone from the group has answered the call or returned a missed call (so that the other group members didn't have to call back and all clients who wanted to contact you were served),
want to monitor the agents' work: current number of calls answered and missed, queue occupancy, answering time etc. and compare it with historical data
see what Platan Call Monitor app. can do for you.
Platan Call Monitor is a perfect solution for:
private clinics,
car dealers,
companies offering financial, insurance and consulting services,
travel agencies,
call centers,
start-ups and others.
Main features
Platan Call Monitor software is dedicated for users (agents) answering calls in groups and for people supervising their work (managers).
Platan Call Monitor features:
monitoring of calls incoming to the groups of users with the information of caller's number and name, graphical presentation of call status (answered, missed, returned)
information who from the group answered the call,
calls missed by the group, with the indication whether and who returned the call and which calls failed to be served,
number of calls currently in queue,
displaying agent login status into a given group (logged in, logged out),
unavailability statuses (eg. holiday, break) set by agents, so that next calls are not directed to them,
information about calls abandoned by callers while waiting for connection,
call statistics for groups and individual agents (including total call times, average time to pick up the phone, number of calls missed and abandoned, waiting in queue etc.)
graphic statistics and history for any period,
easy logging in to and logging out from one or more Hunt Groups,
support of up to 64 Hunt Groups with up to 16 users each, in one or many locations
available in English, Polish and Russian.
Watch the movie
See on the movie how Platan Call Monitor works. English subtitles available
How Platan Call Monitor works
Users have three logging options (according to the licences granted): as Agent, Manager and the preview of Table: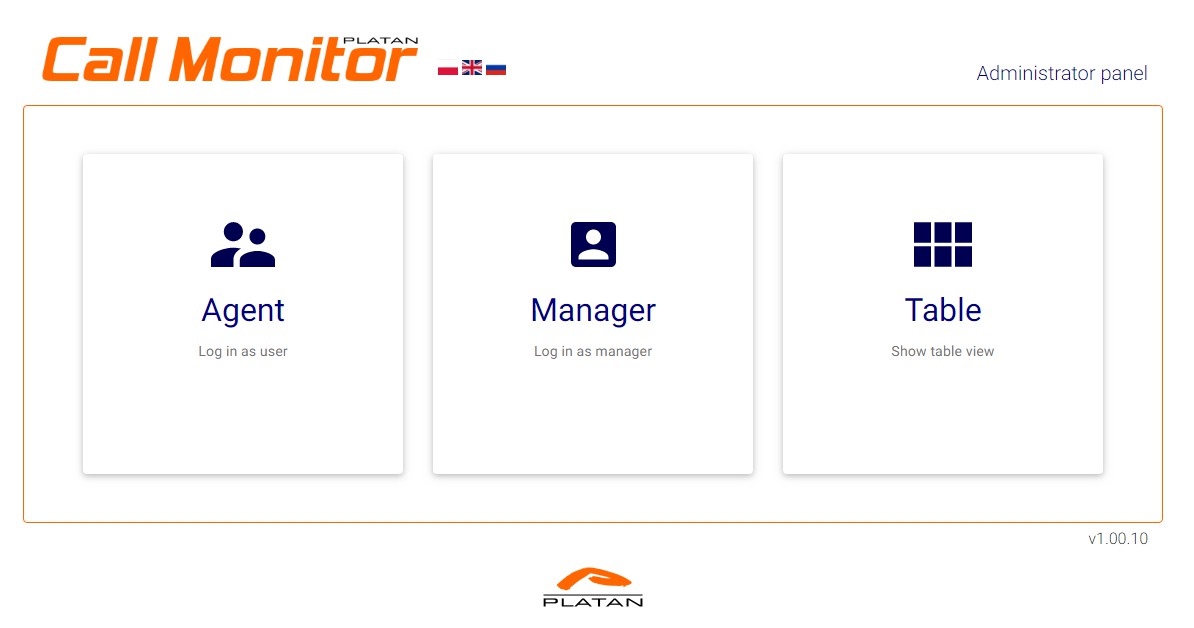 Login to Platan Call Monitor
Agent view
After logging in as Agent a user can see for the current day how many group calls:
he or she answered,
are to be returned (noone called back),
were directed to the group,
are currently in a queue.
Below the tiles Agent can see a detailed call list with caller's number, the description (if it is available in a PBX global phonebook), precise call time, information about who answered the call or who called back. The last column shows a graphic call status (answered, missed, returned). The calls may be filtered (all, returned, not returned) to easily find the numbers that require the answer: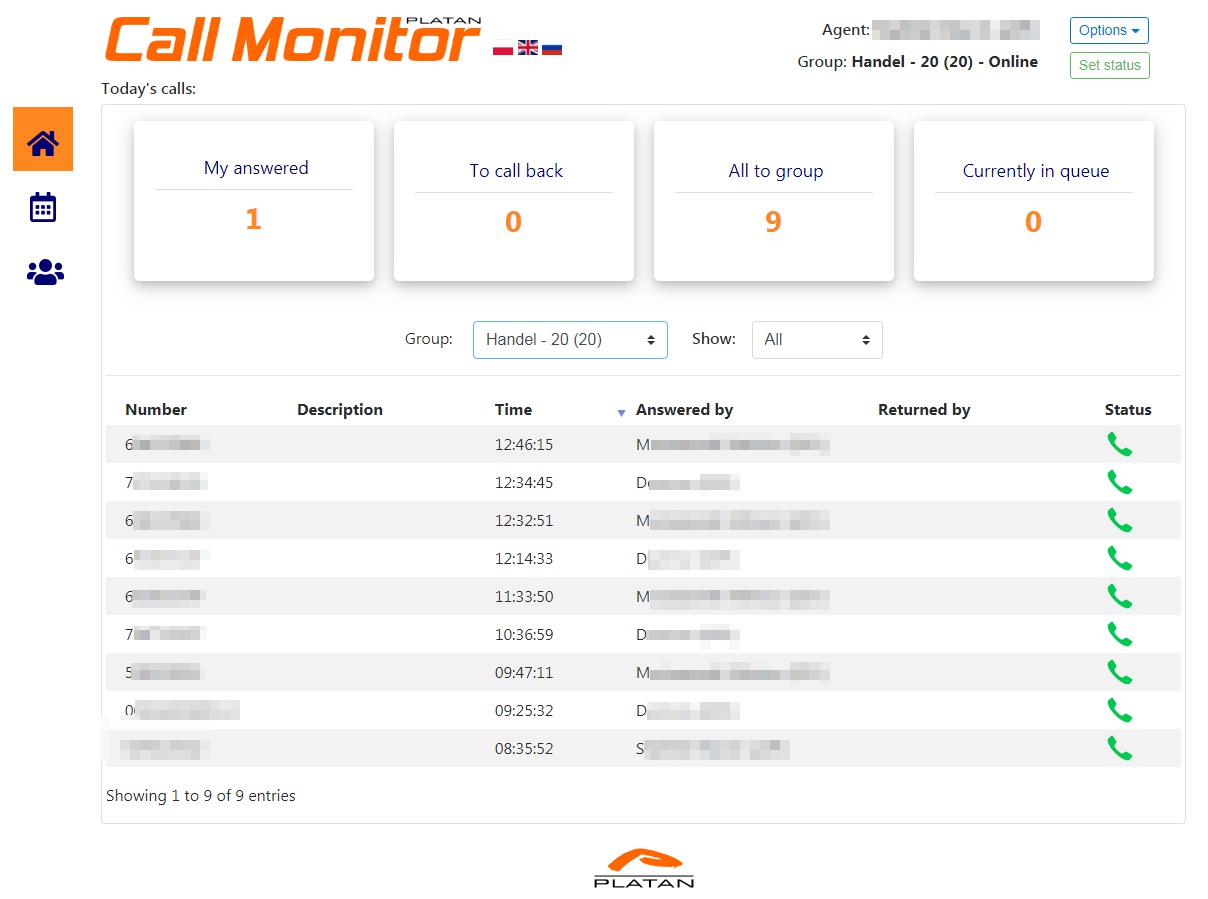 Calls of a current day (Agent view)

To facilitate calling back the numbers displayed in web browsers, we reccomend the Platan Click2Call plug-in. The numbers are automatically changed into active hyperlinks. One click and the PBX dials such number to let the Agent quickly call back.
In the second tab Agent can see the group calls history: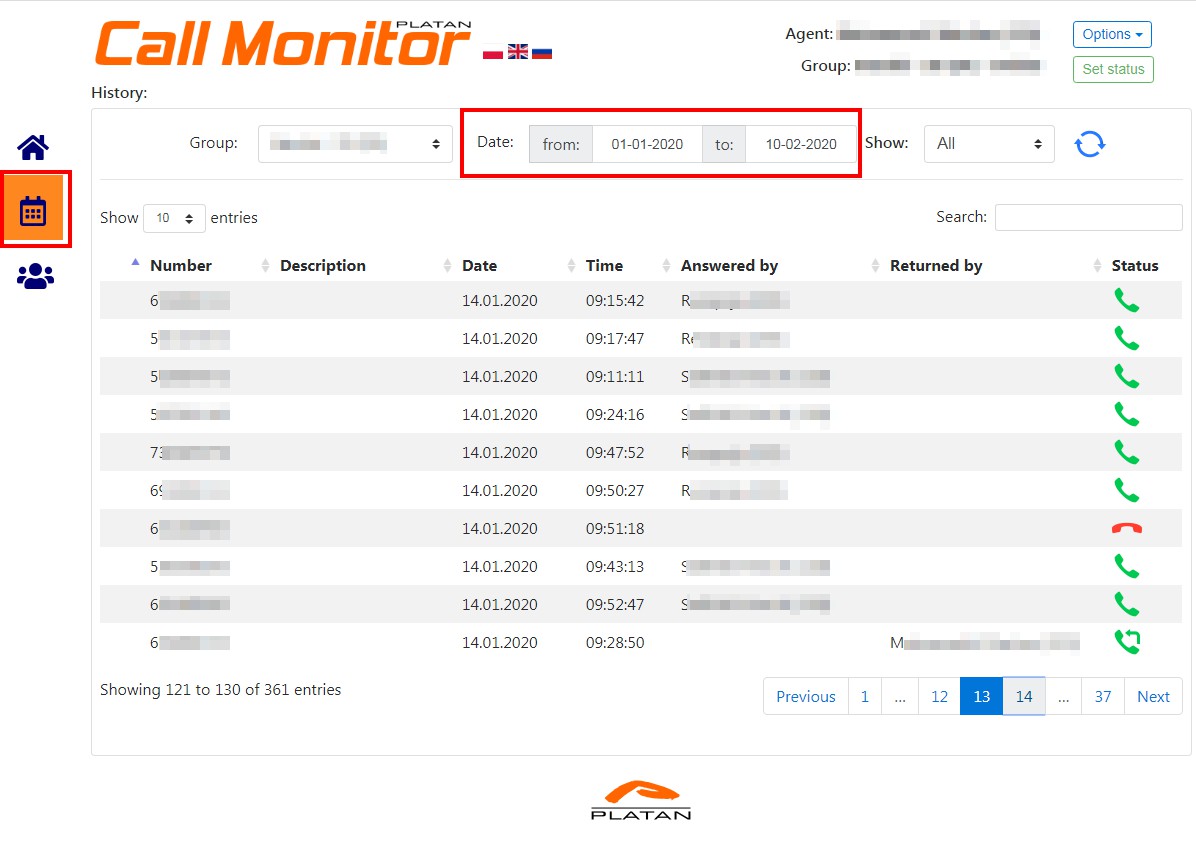 Group call history in Platan Call Monitor (Agent view)
In the third tab Agent can see current statuses of other group(s) members. In the upper right corner the Agent has always his/her current status in a given group and can change it. When both offline status (logging out from the Hunt Group(s)) or the temporary unavailability (break, meeting, holiday etc.) are set the PBX server does not direct calls to this person, and Agent is excluded from the defined call distribution within a group:

Agent statuses in Platan Call Monitor
Manager view
A Manager's duty is to monitor the subordinates' work, so he/she can see mainly the work summary of both every agent and Hunt Group(s). The Manager does not see the list of calls (callers' numbers or call times).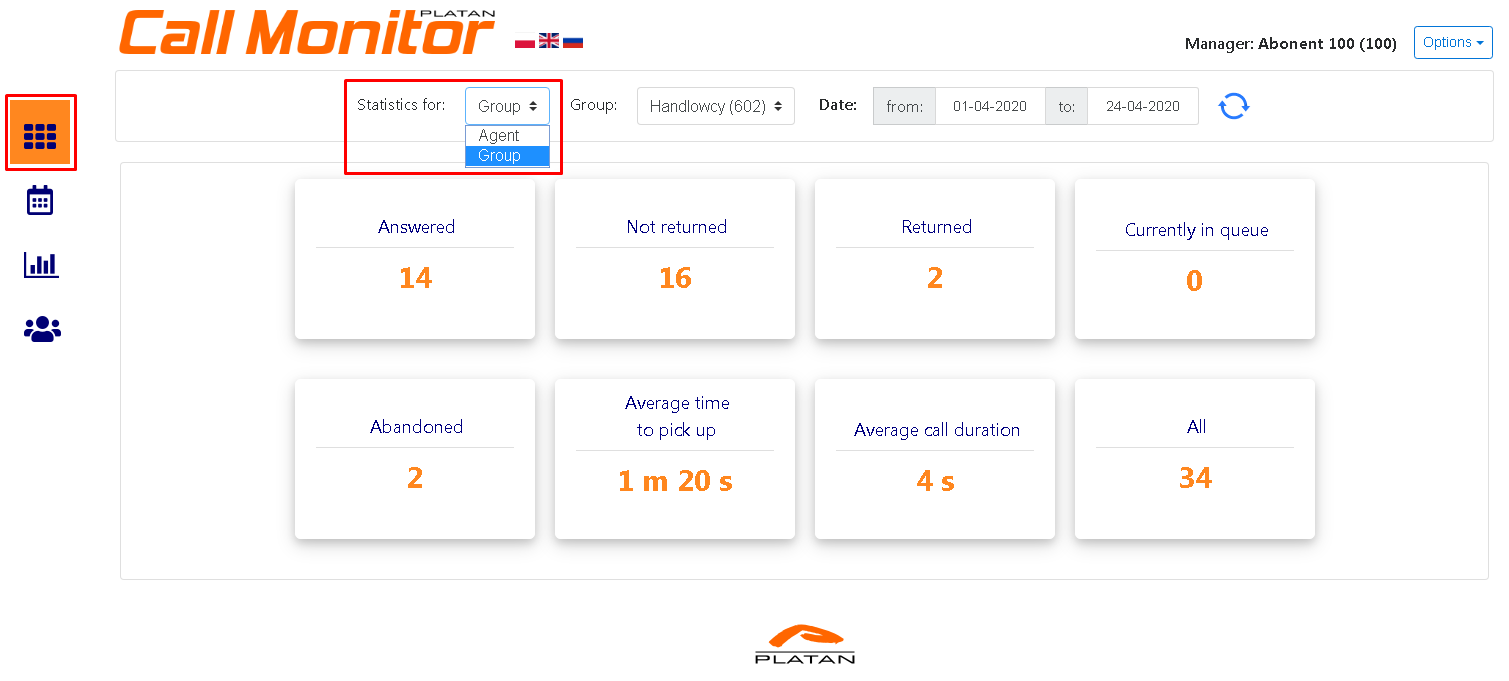 Statistics for Manager in Platan Call Monitor
Additionally, having clicked the Currently in queue field, Manager has the information about calls (numbers and descriptions if present in the global phonebook) waiting currently in queue with their waiting times (new!).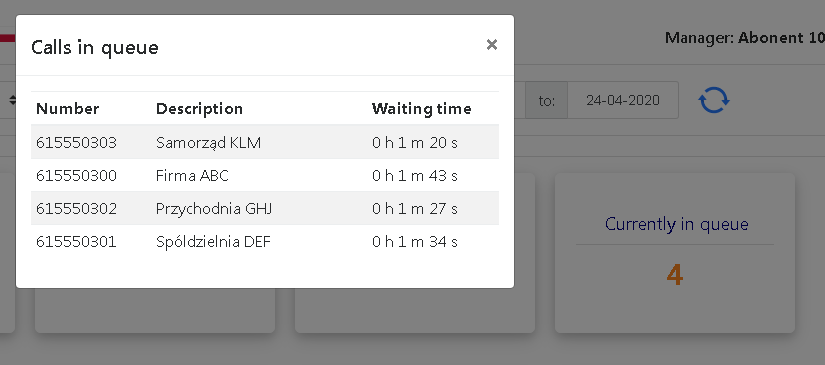 Preview of calls in queue (Manager view)
In the second tab Manager can see detailed call history with call statuses (answered, returned with success, returned unaswered, missed, abandoned) with the information who answered every call and which calls remain to be called back.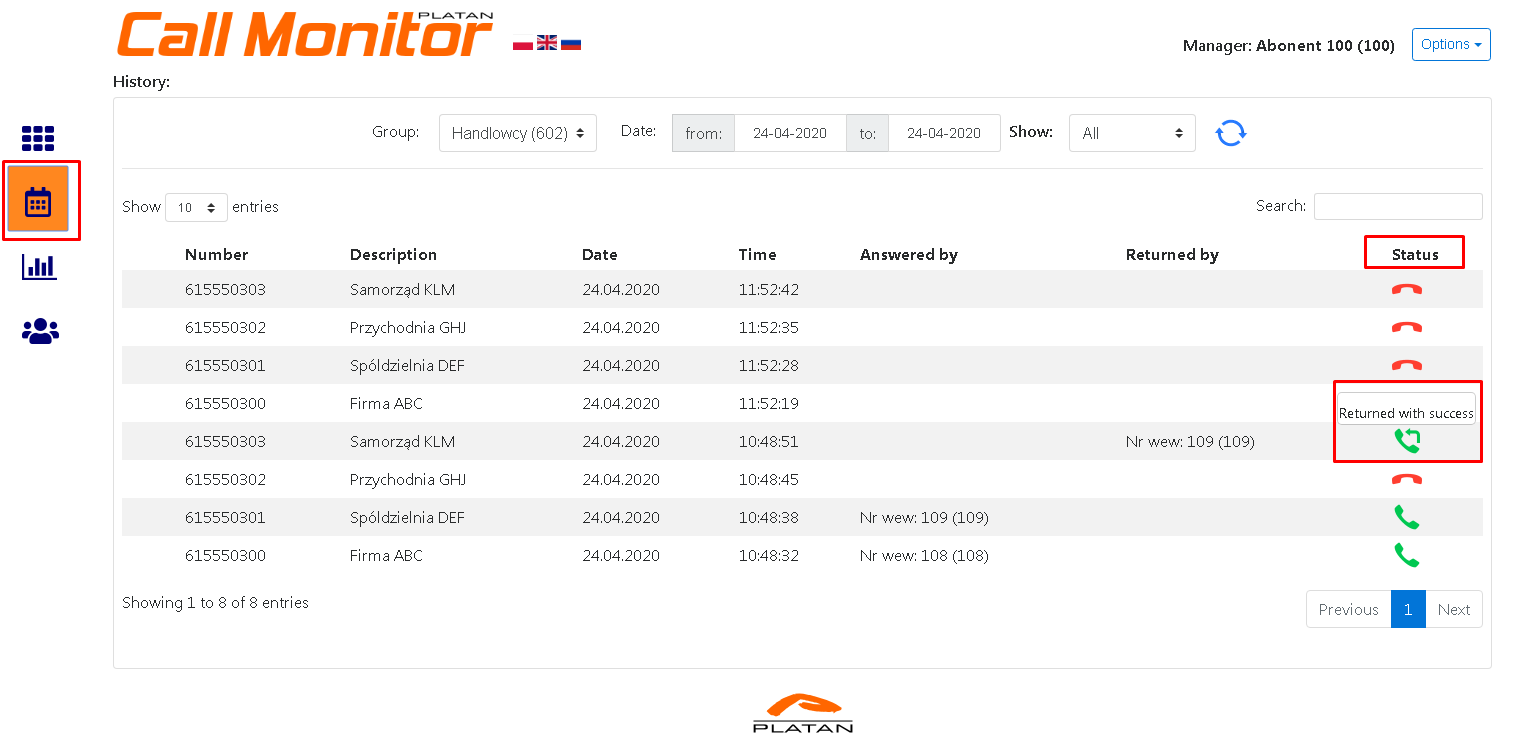 Detailed call history with call statuses in Manager's view
In the third tab Manager has access to the reports for Hunt Groups and time periods:
average number of calls in queue (hourly), showing which position on average had in queue a new caller - so the Manager can see when the agents are most occupied and queues are the longest,
average number of calls per queue (hourly),
average waiting time in a queue (hourly)
number of abandoned calls (when caller gave up waiting for connection)
agent activity (total time of logging into the Hunt Group and individual statuses).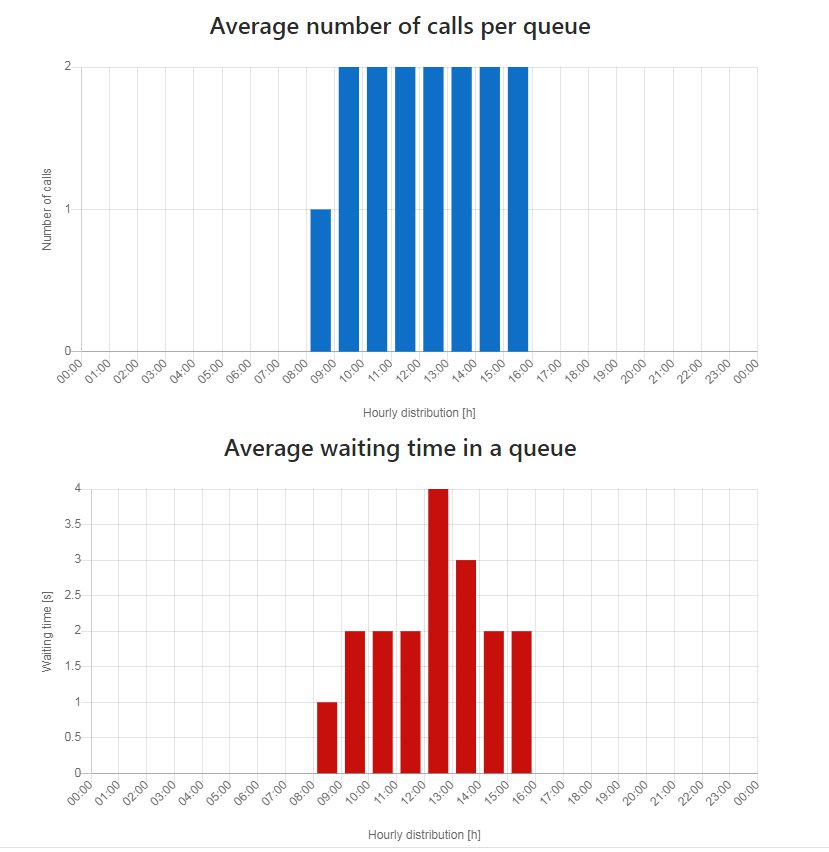 Graphic reports for Manager in Platan Call Monitor

Summary of Agent activity in a given period
Manager can also analyse at what level of infolines (IVR) callers gave up waiting: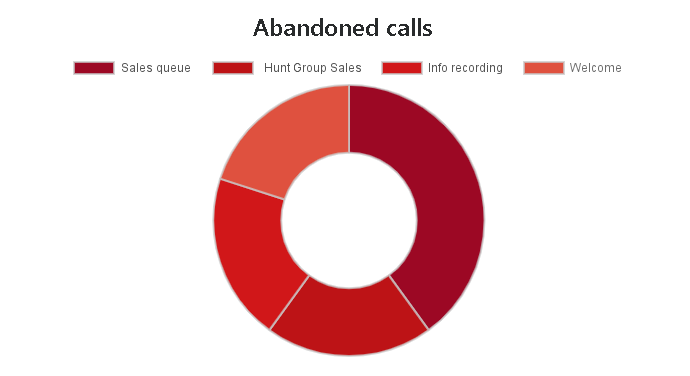 Abandoned calls - levels of IVR
All or selected reports Manager can export to the .xls file:


Report export in Platan Call Monitor to .xls file

Note: Manager can monitor the work of different Hunt Groups' members whether they have the Agent licences in Platan Call Monitor or not.
The last tab (Status) shows, just like in the Agent view, current Agent statuses (members of a given Hunt Group).
Table view
The third type of displayed information is Table. It shows current group statistics of a given day:
number of calls answered by the group,

missed calls that were not returned,
missed calls that were returned by someone from the group,
abandoned calls (caller gave up waiting),
average time to pick up,
number of all calls directed to the group.
Table is a perfect tool to monitor current activities and efficiency of groups answering calls, it can add an element of rivality among agents, that will promote the better customer service. Legible table tiles look perfectly on big screen hung in an open space where they are visible for everyone.
What is required?
Platan Call Monitor is supported by Proxima IP PBX Server, Proxima plus IP PBX Server and Libra PBX Server.
What is required to use Platan Call Monitor:
Proxima IP PBX Server, Proxima plus IP PBX Server or Libra PBX Server (ver. 2.10.02 or higher),
Platan Call Monitor licences (for server, 1 Manager and 2 or 10 Agents),
optionally licences for additional Managfer and/or Agent posts,
PC: processor dual-core 2x 1.6 GHz, 4 GB of memory, 1 GB HDD free space, 10/100/1000 LAN, operation system: Windows (8 or higher) or Linux,
Mozilla Firefox or Chrome web browser.
Test freely for 30 days
NEW - test Platan Call Monitor software on any number of Agent/Manager type users freely for 30 days. In order to receive a free temporary licence, send to export(at)platan.pl an order containing:
number and type of Platan Call Monitor users,
controller No of Proxima/Libra PBX server.
Temporary licence is entered directly in Platan Call Monitor (Administrator panel -> Options -> Upload licence).

Licence upload in Options of Platan Call Monitor's Administrator panel

print