20-06-2014
Platan Partners' Meeting in Cetniewo
The Conference and Meeting of Polish anf foreign Platan Partners took place in Cetniewo, Poland on May 24-25. We presented, among others, our newest systems and plans for the future. The presentation of broad export activities and innovative promotion of Platan and digitex products proposed by one of our Partners received the warmest reception.
Then, taking advantage of the picturesque facilities of Central Sports Centre, while having barbecue we enjoyed integrating and relaxating activities, not even paying attention to the violent hailstorm passing over our heads.
In the evening we dressed up into something more colorful and we selected our favourite songs that made us dance till the dawn.
Thank you for coming to our meeting from the most distant corners of Poland and abroad, long talks, time spent together and excellent mood. In the gallery below you will find a few photos from the event.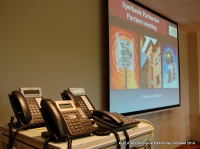 Gallery of Platan Partners' Conference and Meeting
- Cetniewo 2014

print