10-11-2011
Platan on expoTEL 2011
On 19-21 October Platan took part in International Exhibition of Telecommunication Industry expoTEL 2011 in Kiev, Ukraine.
Together with our official partner in Ukraine - InfoTel-Distribution company we presented the newest and most innovative telecommunication solutions, which were received with great interest by exhibition visitors.
We are very proud to inform that our newest product Libra PBX Server was awarded the special diploma for an innovative solution presented during the expoTEL 2011 exhibition.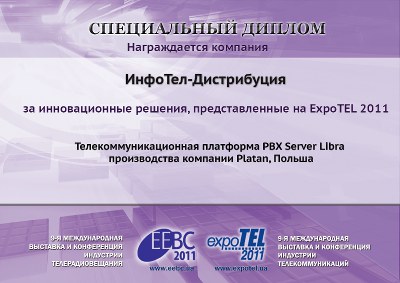 In the gallery below you'll find a few photos from this event. We thank all the guests, customers and partners for visiting Platan's stand and invite you to cooperate!

print