15-11-2021
IRIS quality certificate for railways
We are pleased to announce that we have successfully passed the audit confirming compliance with the IRIS standards - the international quality standard for products intended for the railway industry.
In October this year we have successfully passed the management system audit carried out by Bureau Veritas. The obtained IRIS certificate confirms compliance with the ISO / TS 22163: 2017 quality standards in the field of design, production and service of passenger information system devices.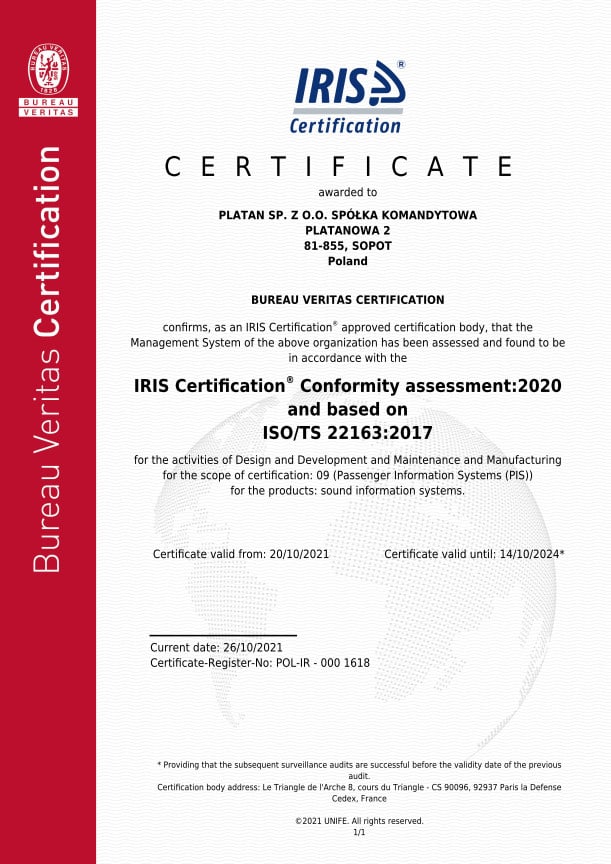 IRIS certificate for Platan company
IRIS is the International Railway Industry Standard headed by UNIFE (the Association of the European Rail Industry). It is based on the ISO quality system and extends it to include requirements specific to the railway industry. IRIS is used by suppliers of the railway industry not only in Europe but also around the world.

Platan has been designing, producing and implementing megaphone broadcasting systems within the Central Dynamic Passenger Information System (CSDIP) for several years. The IRIS certificate confirms the highest quality of our products for railways.

More information about the IRIS certificate received by Platan on the IRIS website.

More information on passenger information systems at audio.platan.pl (in Polish).

print